Coco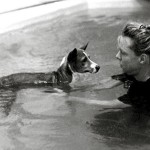 HISTORY: Coco my Basenji, fell off our bed and experienced an explosive disk rupture the last weekend of July 2000, leaving his rear legs paralyzed. His surgeon, after advising us to give Coco several quiet weeks, wished us well, but guessed that Coco would remain paralyzed and disabled. He had regained only minimal ability to get around, by dragging himself with his still very capable front end. In September of 2000, I began taking Coco to Sheila Wells for swim therapy. I believed that swimming might be a way for him to get in touch with his rear end, and I believe it ha worked wonders!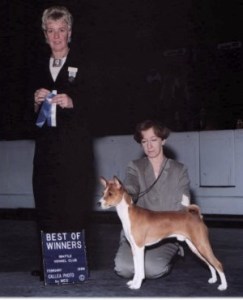 THERAPY: For Coco, Sheila has kept him in excellent physical shape with massage of the paralyzed rear muscles and overall aerobic conditioning from pool exercises. For me, she's been the best support I could have hoped for. She showed me how to stimulate the sphincter muscle so I could train Coco to poop on command. which solved the most difficult problem of the early days of rehabilitation. She taught me massage techniques for relaxing Coco's overworked front end muscles and for stimulation his rear paralyzed legs. She gave me suggestions for coping with the many little problems that arose, e.g., Coco's scuffed up rear toes from dragging himself around the house. At times I was exhausted and depressed and might have given up, but Sheila gave me hope, if not for a full recovery, at least the one I could cope with. Coco had therapy with Sheila twice a week for a few months and slowly progressed toward his recovering movement in his rear legs. I knew things were progressing when one weekend in the open field where Coco used to lure-course his little away, he took his first three, weird and wobbly steps.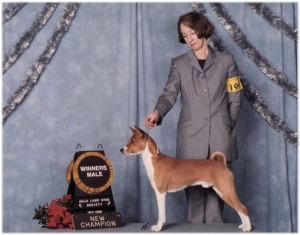 It was extremely difficult to adjust to his being paralyzed. He can now take many ore than three steps in a row, and I've devised all sorts of methods to keep him walking more and more. His rear end is still wobbly, his feet turn under, which he usually corrects on his own, but he's still making progress seven months after the accident and surgery. Due to the busy holiday schedule in December, and because Coco was obviously much stronger, we cut back to every other week, which we sustained since until 2001. His pool session are supplemented with daily walks when weather permits.
ABOUT COCO: Coco had always been and active dog. He was a "Show Dog" and obtained 3 championship titles. U.S., Canadian and International. He also earned a Field Championship title in the A.S.F.A Sighthound field association for Lure-coursing. He was almost finished competing in A.K.C. Lure-coursing