Meet the team at Wellsprings K9
W
ellsprings K9
is committed to providing your dog with the best hydro and massage therapy. Every employee at Wellsprings K9 is personally trained by
Sheila Wells
who, through the years of working with hundreds of dogs, has developed effective and cutting edge techniques to help dogs recuperate, recover, relax, realign, reintegrate, reeducate, and revitalize through focused exercise and therapeutic massage.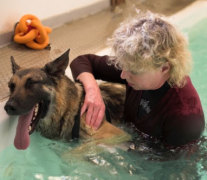 Sheila Wells is a Licensed Massage Practitioner as well as a Small Animal Massage Practitioner. She created Wellsprings-K9, the very first Licensed Massage and Swim Therapy Facility in the U.S.and Canada, in 1994. Sheila's background includes working as a Veterinarian Technician/Assistant, Registered Nurse, Forensic Autopsy Technician and a Licensed Massage Therapist for humans.
Skilled in Therapeutic Touch as well as a Reiki Master, Sheila has been engaged in massage and several other modalities of body and energy work on animals—mainly dogs—for the last 40 years.
Sheila and Wellsprings-K9 also provide therapy to other small animals. The media page includes a link to an article about Wellsprings-K9 on the Rabbit Rescue and Rehab website.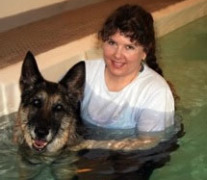 Renee joined Wellsprings-K9 in 2005 and began training in Canine Hydrotherapy with Sheila. After obtaining her Master's in zoology from the University of Washington, Renee worked as a Licensed Veterinary Technician for 20 years in a very busy medical/surgical small animal hospital here in Seattle.
In 1997 Renee went back to school and graduated as a human Licensed Massage Practitioner at Seattle Massage School. She has been treating human patients since. In 2005 she graduated as a Small Animal Massage Practitioner and continues to use her healing talents here with our canine patients in the pool.
Renee is proud of the fact she was born, raised and has lived in West Seattle all her life and enjoys all the activities that the PNW has to offer. She has several large and small animals at home and is Mom to 3 precious human children as well.