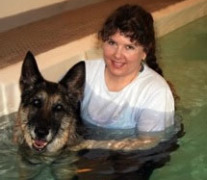 Renee joined Wellsprings-K9 in 2005 and began training in Canine Hydrotherapy with Sheila. After obtaining her Master's in zoology from the University of Washington, Renee worked as a Licensed Veterinary Technician for 20 years in a very busy medical/surgical small animal hospital here in Seattle.
In 1997 Renee went back to school and graduated as a human Licensed Massage Practitioner at Seattle Massage School. She has been treating human patients since. In 2005 she graduated as a Small Animal Massage Practitioner and continues to use her healing talents here with our canine patients in the pool.
Renee is proud of the fact she was born, raised and has lived in West Seattle all her life and enjoys all the activities that the PNW has to offer. She has several large and small animals at home and is Mom to 3 precious human children as well.