Our Services
D
uring your first appointment at
Wellsprings K9
a licensed massage and swim therapist will perform a full assessment of your dog. This includes a discussion of his/her overall health, any concerns you have regarding specific conditions, a full medical history, and an analysis of her/his gait. Then your dog is introduced to the pool. We want your dog's first experience at Wellsprings K9 to be positive, fun, and safe and so we let him/her set the pace of this first session. Some dogs adapt quickly while others need a bit more time. Therefore, the amount of time your dog is in the pool during this first session can vary from 15-30 minutes.
At the end of this first session, the therapist will discuss with you a treatment plan with specific goals and recommend a swim/massage schedule.
After the initial assessment, your dog will work with a licensed therapist in one-hour sessions that include both swim and massage. During the swimming portions, the therapist works with your dog to make certain s/he is in a proper and efficient swimming position to achieve the best results. Using our jetted pool, we focus on helping your dog receive the benefits of non-weight bearing exercise to improve cardiovascular conditioning, achieve and maintain full range of motion, and strengthen areas of concern. In between sets of swimming, your dog will receive a massage that includes body work focused on your dog's particular needs as laid out in the treatment plan. This includes specific range of motion exercises, stretching, proprioceptive work, and massage to help relieve toxins and tension to compensatory muscles. At the end of the session, the therapist will share with you her findings and discuss exercises you can do at home in between sessions.
"I often recommended Wellsprings-K9 to my clients but now I've not only seen the results in the animals I treat but also in my own dog!"
Lena McCullough, DVM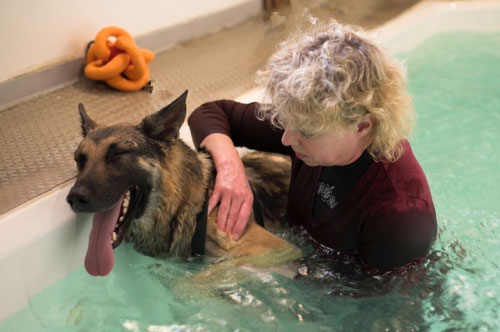 Therapist Rates
$100.00 per hour
Self Swim Session
One hour – $65.00
If recommended by a therapist, a self swim session allows you to work one-on-one with your own dog without the licensed therapist. Self swim sessions are available after a few visits (depending on the individual dog and owner) with one of our therapists training you in pool etiquette and how to obtain the best session, whether it be an intense workout or gentle swimming. We will teach you basic massage and stretching techniques to enhance your time in the pool with your dog.

Palliative/Hospice Care
One hour – $95.00
We also offer Palliative/Hospice sessions for dogs. Being cradled and held in the warm water can take the dog back to a nurturing, vulnerable state where they can just breathe and be — free from aches and discomfort — melting into loving touch while releasing worry and fear. Our focus is on creating a healing, relaxing environment where owners and dogs can spend time together in a quiet peaceful bonding session. Our therapists are trained in the art of holding this sacred and loving space for your beloved dogs and willingly share their knowledge with you during sessions.
Touch and intention (of love and a supportive positively held space) is such a wonderful way to enhance our animals' lives while in palliative/hospice care enhancing a nurturing and safe way to have your dog enjoy time just for them either one on one with you and/or with a compassionate therapist. We also offer tips on how to maintain quality of life while your dog is in palliative care.
Massage Only
One hour – $75.00
Our licensed massage therapists can work with your dog outside of the pool as well providing relaxing and focused therapeutic massages.
Please note: We accept cash, checks and credit cards for all appointments. PayPal is also accepted for prepayment of session(s). Payment is required at time of service. We require a 48 hour notice of cancellation.

House calls
One hour – $95.00 plus mileage
Sheila is honored to once again be offering "End of Life Care" services through Wellsprings K9. With years of experience as a nurse, vet tech, massage therapist, and animal communicator Sheila is available for house calls to provide dogs with palliative body work, basic nursing, and comfort care as well as teaching families how to provide the same during this meaningful time. As a healer and communicator, Sheila's powerful connection with animals can make this difficult transition more peaceful for you and your dog.
Prepay with PayPal
One 1 Hour Session with initial intake, gait analysis, and mini pool session, setting goals and plans – $113.50
One 1 Hour Session Swim and Massage with Therapist – $97.10
Five 1 Hour Sessions Swim and Massage with Therapist – $470.00
Ten 1 Hour Sessions Swim and Massage with Therapist – $940.00
One Self Swim Session for one dog – 1 Hour (45 minutes approx. pool time) – $70.00
One Self Swim Session for one dog – 1/2 Hour (15 minutes approx. pool time) – $50.00