Thank you for your support!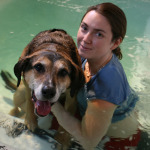 W
e raised $11,000 towards updating and buying new equipment for the facility. Those who missed the deadline are still donating! Thank You!! This has proven to us how valuable and respected our services to dogs and their owners just is.
We are extremely grateful to those who have donated or shared our campaign. It will really help us help all the dogs and their owners continue to receive the great rehabilitation work we provide.
What clients are saying…
We've decided to keep the Fundraiser ongoing !!
And have established an ongoing support fund to ensure that no dog goes without!
The demand for our quality canine healthcare is growing! Your support is key in enabling us to continue to provide the very best in the many modalities of our canine healing work and swim therapy we offer.
Your donations are extremely appreciated! Many thanks to all of you who support us and please spread our news to all other dogs lovers.
Suggested donor levels
Platinum level ($500 or more)
Gold level ($200 to $499)
Silver level ($100 to $199)
Bronze level ($5 to $99)
Donate easily and securely with PayPal!
If you'd like to support animals in need, please contact us at 206-935-8299 or by email at sheila@wellspringsk9.com.
Thank you for your generosity!